Catch-22 - Stagione 1 (2019)[Completa].mkv HDTV AC3 H264 1080p - ITA
4
Catch-22 - Stagione 1 (2019).mkv HDTV AC3 H264 1080p - SpyRo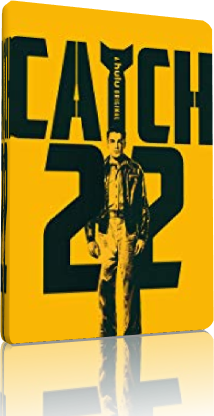 Scheda iNF:
GENERE: Miniserie TV
ANNO: 2019
PAESE: Italia, USA
DURATA: 60 Min
Stagione: 1
Episodi: 6
IDEATORE: Luke Davies, David Michôd
ATTORI: Christopher Abbott, Kyle Chandler, George Clooney, Hugh Laurie, Giancarlo Giannini, Rafi Gavron, Austin Stowell, Gerran Howell, Pico Alexander
PRODUZIONE: Anonymous Content, Paramount Television
STATO: In Lavorazione

Catch-22 è una miniserie in sei parti tratta dall'omonimo romanzo satirico di Joseph Heller, pubblicato in Italia nel 1961 con il titolo Comma 22 e basato sulle esperienze personali dell'autore in tempo di guerra. Il drama, scritto per la tv dallo stesso Heller insieme con Luke Davies (Lion: La strada verso casa, Life) e David Michod (Animal Kingdom), racconta la storia di John Yossarian (Christopher Abbott, The Sinner, Girls), un aviatore dell'Aeronautica statunitense in servizio sulle coste italiane durante la Seconda Guerra Mondiale, che stanco di dover affrontare situazioni pericolose e nemici ignoti per volere del sadico Colonnello Catchcart (Kyle Chandler, Bloodline), decide di farsi riconoscere mentalmente instabile nel tentativo di essere congedato. Ma, sfortunatamente, nell'esercito vige una regola piuttosto paradossale: "Chi è pazzo, può chiedere di essere esentato dalle missioni di volo, ma chi chiede di essere esentato dalle missioni di volo non è pazzo". Mentre il numero di missioni necessarie per completare il servizio aumenta ogni volta che il ritorno a casa sembra più vicino, Yossarian e i suoi compagni fanno fatica a rimanere sani di mente e iniziano a mostrare tutte le proprie fragilità da semplici esseri umani chiamati a combattere qualcosa che non riescono più neanche a identificare. Il resto cast stellare include George Clooney nei panni del Tenente Scheisskopf, Giancarlo Giannini in quelli di Marcello, il proprietario di un bordello di Roma, e Hugh Laurie (Dr. House) nel ruolo del Maggiore de Coverley.

InfSuFiles:
Show/hide text

In caso di links defunti, mandate PM e ricontrollate la cartella, ne avrete di funzionanti!
Click'N'Load V2, aprire nel browser (NON INCOLLARLO SU JD), premere il bottone o scaricare il DLC.

(Funzionano solo con JDownloader che deve essere prima avviato).

Warning! You are not allowed to view this text.

Solo Su Richiesta Mandandomi MP
ATTENZIONE!!!
Stai per prelevare
Catch-22 - Stagione 1 (2019)[Completa].mkv HDTV AC3 H264 1080p - ITA

Materiale solo a scopo dimostrativo e per testare la sua funzionalita' quindi una volta prelevato dovete cancellare i file entro 24 ore dal vostro PC
Nessuno dei files indicati su questo sito è ospitato o trasmesso da questo server.
I links sono forniti dagli utenti del sito, liberodownload.com non può essere ritenuto in alcun modo responsabile per qualsiasi pubblicazione o altra azione commessa dagli utenti.
Se è stato di vostro gradimento supportate il lavoro comprando l'originale.