[Ps3] The House of the Dead: Overkill - Extended Cut (2011) [Cfw 4.41] EUR - Sub ITA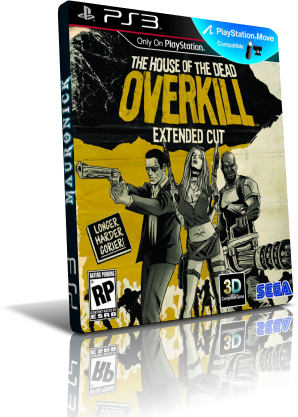 The.House.of.the.Dead.Overkill.PS3-ABSTRAKT
The House of the Dead: Overkill - Extended Cut è una nuova versione di The House of the Dead: Overkill per PlayStation 3 con supporto per 3D e Move.
The House of the Dead: OVERKILL arriva sul sistema PS3 in questa esclusiva edizione Extended Cut, con una valanga di contenuti nuovi, tra cui livelli, armi, mutanti e molto altro ancora. Assapora la follia esplosiva grazie al controller di movimento PlayStation Move, in un eccezionale 3D e grafica in alta definizione rimasterizzata.
Quando l'ormai famoso Agente G era solo una recluta fresca di accademia, fu messo in squadra con Washington, un duro ed esperto poliziotto, e con la spogliarellista Varla Guns, per investigare sulle misteriose sparizioni in una piccola cittadina della Louisiana. Non sospettavano certo di trovarsi di fronte l'orrore mutante sanguinario nelle strade e nelle paludi di Bayou City...