The Heretics (2017) DVD9 COPIA 1:1 - ITA/ENG
0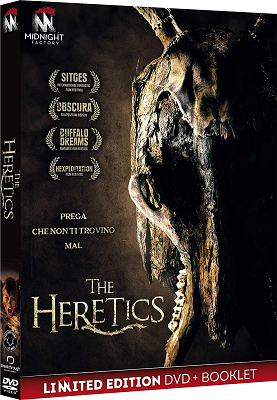 Scheda:
Titolo Originale: THE HERETICS
Regia: Chad Archibald
Interpreti: Nina Kiri, Jorja Cadence, Ry Barrett, Nina Richmond, Will King
Durata: h 1.27
Nazionalità: Canada 2017
Genere: horror
Trama:
Una ragazza viene rapita da un uomo sconosciuto che sostiene di volerla proteggere, fino all'alba, da una pericolosa setta che le sta dando la caccia. Durante le ore con il suo rapitore però la giovane si ammala gravemente. Solo il trascorrere del tempo rivelerà la vera origine della sua malattia il cui ultimo stadio non è la morte ma la mutazione
The Heretics (2017) DVD9 COPIA 1:1 - ITA/ENG
INFO DVD:
Dimensione: 5,13 GB
Sottotitoli: SI
Lingue: ITA ENG
Metodo DI Rilascio : Cartella VOB
Compressione: NO
Software utilizzati: Clonedvd
DVD:DVD9 COPIA 1:1
Menu: SI
Extra:SI
Download:
Warning! You are not allowed to view this text.
ATTENZIONE!!!
Stai per prelevare
The Heretics (2017) DVD9 COPIA 1:1 - ITA/ENG

Materiale solo a scopo dimostrativo e per testare la sua funzionalita' quindi una volta prelevato dovete cancellare i file entro 24 ore dal vostro PC
Nessuno dei files indicati su questo sito è ospitato o trasmesso da questo server.
I links sono forniti dagli utenti del sito, liberodownload.com non può essere ritenuto in alcun modo responsabile per qualsiasi pubblicazione o altra azione commessa dagli utenti.
Se è stato di vostro gradimento supportate il lavoro comprando l'originale.
ATTENZIONE!!!
Attualmente non vi è nessun commento, per
The Heretics (2017) DVD9 COPIA 1:1 - ITA/ENG
vuoi essere il primo a fare il commento!
Per Favore registrati oppure fai il Login