Il Figlio Di Godzilla - Il Ritorno Di Gorgo (1967).avi DVDRip AC3 ITA
0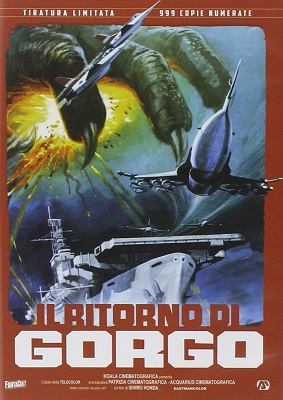 Il figlio di Godzilla è un film di fantascienza del 1967 per la regia di Jun Fukuda. È l'ottavo sequel del film Godzilla del 1954.
Il film fu un buon successo in Giappone, soprattutto tra i bambini, i quali si affezionarono subito a Minilla, il figlio di Godzilla. Il finale del film poi, è ancora oggi considerato uno dei più poetici dell'intera saga.
Nei tardi anni settanta fu ridistribuito in Italia con il titolo Il ritorno di Gorgo solo per sfruttare l'assonanza con una riedizione italiana di poco precedente relativa al vecchio film inglese Gorgo di Eugène Lourié.
Trama
Un giornalista assiste di nascosto ad un esperimento climatico sull'isola di Sogell. Ma qualcosa va storto, e all'improvviso tutta la fauna dell'isola cresce fino a diventare gigantesca. Particolarmente pericolosi si rivelano un ragno gigante (chiamato Kumonga) e le mantidi (battezzate Kamacuras).
Tra questi animali però c'è anche un cucciolo di Godzilla, il cui uovo si è schiuso a causa dell'esperimento. Il cucciolo, è facile preda dei mostri sull'isola, quindi gridando chiama il padre, e prontamente arriva Godzilla che sgomina i mostri.
Titolo originale Kaijū-tō no kessen Gojira no musuko
Paese di produzione Giappone
Anno 1967
Durata 84 min
Genere thriller, azione, fantascienza, commedia
Regia Jun Fukuda
Sceneggiatura Shinichi Sekizawa Kazue Shiba
Produttore Tomoyuki Tanaka
Effetti speciali Eiji Tsuburaya Teisho Arikawa
Musiche Masaru Sato
Interpreti e personaggi
Seiji Onaka: Godzilla
Haruo Nakajima: Godzilla (scena subacquee)
Masao Fukazawa: Minilla
Akira Kubo: Goro Maki
Tadao Takashima: dottor Tsunezou Kusumi
Akihiro Hirata: Fujisaki
Bibari Maeda: Riko Matsumiya
Yoshio Tsuchiya: Furukawa
Kenichiro Maruyama: Ozawa
Kenji Sahara: Morio
Chotaro Togin: sopravvissuto
Doppiatori italiani
Renato Cortesi: Goro Maki
Sergio Rossi: dottor Tsunezou Kusumi
Renato Izzo: Fujisaki
Laura Gianoli: Riko Matsumiya
Antonio Guidi: Furukawa
Dante Biagioni: Ozawa
Sandro Iovino: Morio
Report
Show/hide text
Screenshots
Show/hide text
DownloadEasybytez
Warning! You are not allowed to view this text.
Nitroflare
Warning! You are not allowed to view this text.
Per supportare il mio lavoro abbonati o rinnova il premium con i miei referral
Referral Easybytez
Referral Rapidgator
Referral Nitroflare
ATTENZIONE!!!
Stai per prelevare
Il Figlio Di Godzilla - Il Ritorno Di Gorgo (1967).avi DVDRip AC3 ITA

Materiale solo a scopo dimostrativo e per testare la sua funzionalita' quindi una volta prelevato dovete cancellare i file entro 24 ore dal vostro PC
Nessuno dei files indicati su questo sito è ospitato o trasmesso da questo server.
I links sono forniti dagli utenti del sito, liberodownload.com non può essere ritenuto in alcun modo responsabile per qualsiasi pubblicazione o altra azione commessa dagli utenti.
Se è stato di vostro gradimento supportate il lavoro comprando l'originale.
ATTENZIONE!!!
Attualmente non vi è nessun commento, per
Il Figlio Di Godzilla - Il Ritorno Di Gorgo (1967).avi DVDRip AC3 ITA
vuoi essere il primo a fare il commento!
Per Favore registrati oppure fai il Login