Monster Rancher - Stagione 2 (2000).mkv DVDMux AAC ITA JAP
0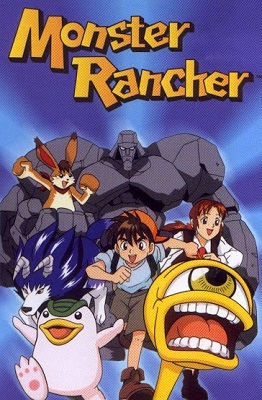 Monster Rancher è un anime basato sull'omonima serie di videogiochi. Venne prodotto dalla Tokyo Movie Shinsha nel 1999 e messo in onda dalla Tokyo Broadcasting System tra il 1999 ed il 2000.
Trama
Un ragazzino di nome Genki Sakura vince, ad un torneo di King of Monster Tournament, il famoso videogioco Monster Rancher, non ancora immesso sul mercato. All'ultimo giorno di scuola prima delle vacanze estive Genki ha delle visioni del mondo di Monster Rancher come se fosse reale e, finita la scuola, il ragazzino passa a recuperare dalla cassetta della posta il videogioco Monster Rancher desideroso di provarlo. Proprio nello stesso momento, nel mondo di Monster Rancher, una ragazza di nome Holly, in compagnia del mostro occhiuto Suezo, scappa da un gruppo di mostruosi dinosauri, i Black Dino, per appropriarsi della pietra del mistero che essi hanno recuperato. Suezo, per tentare di rallentarli, getta degli sputi ,uno dei quali oltrepassa lo schermo colpendo Genki, che ne rimane sbigottito...
Titolo originale Monster Farm: Enbanseki no Himitsu
Genere Avventura Azione Commedia Soprannaturale
Regia Hiroyuki Yano
Produttore Kazuhiko Yagiuchi, Naotsugu Kato, Tetsuya Watanabe
Composizione serie Osamu Nakamura, Shinzo Fujita
Char. design Minoru Maeda
Dir. artistica Kazutoshi Shimizu, Seiji Sugawara
Musiche BMF
Studio Tokyo Movie Shinsha
Rete TBS
1ª TV 17 aprile 1999 - 30 settembre 2000
Episodi 73 (completa)
Aspect ratio 4:3
Durata ep. 25 min
Editore it. Mondo Home Entertainment (VHS e DVD)
Rete it. Rai 2
1ª TV it. 12 febbraio - luglio 2001
Episodi it. 72 / 73 Completa al 99% (in 2 stagioni, ep. 47 non trasmesso)
Durata ep. it. 25 min
Dialoghi it. Maria Letizia Ciceroni, Emanuela Amato, Cristina Fenuccio
Studio dopp. it. Doppiaggio Internazionale
Dir. dopp. it. Raffaele Uzzi, Andrea Ward
Report
Show/hide text
Screenshots
Show/hide text
DownloadEasybytez - Nitroflare
Warning! You are not allowed to view this text.
Katfile - Rapidgator
Warning! You are not allowed to view this text.
Per supportare il mio lavoro abbonati o rinnova il premium con i miei referral
Referral Easybytez
Referral Katfile
Referral Rapidgator
Referral Nitroflare
ATTENZIONE!!!
Stai per prelevare
Monster Rancher - Stagione 2 (2000).mkv DVDMux AAC ITA JAP

Materiale solo a scopo dimostrativo e per testare la sua funzionalita' quindi una volta prelevato dovete cancellare i file entro 24 ore dal vostro PC
Nessuno dei files indicati su questo sito è ospitato o trasmesso da questo server.
I links sono forniti dagli utenti del sito, liberodownload.com non può essere ritenuto in alcun modo responsabile per qualsiasi pubblicazione o altra azione commessa dagli utenti.
Se è stato di vostro gradimento supportate il lavoro comprando l'originale.
ATTENZIONE!!!
Attualmente non vi è nessun commento, per
Monster Rancher - Stagione 2 (2000).mkv DVDMux AAC ITA JAP
vuoi essere il primo a fare il commento!
Per Favore registrati oppure fai il Login