Code Geass - Akito The Exiled 02 - Il Wyvern Lacerato (2013).mkv DVDRip AC3 ITA JAP Sub ITA
0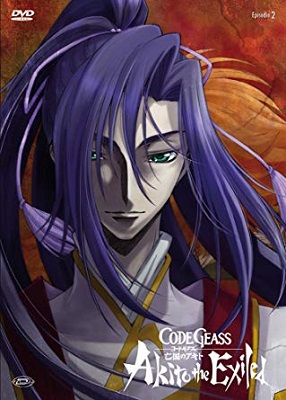 L'universo di Code Geass è ancora dominato dall'ingiustizia e dalla discriminazione razziale.Ecco perché servono nuovi eroi!Trama
2017 a.t.b. – anno 228 del calendario rivoluzionario. La guerra tra Europia Unita e Britannia continua. Decisamente in svantaggio, l'esercito di Europia fonda una squadra speciale costituita da Eleven – giapponesi esiliati dal loro paese, conquistato da Britannia – conosciuta col nome di unità wZERO. I piloti di questa unità sono il tenente colonnello Leila, Akito, unico sopravvissuto all'ultima missione della squadra, e tre reietti fuggiti dal ghetto degli Eleven, Ryo, Ayano e Yukiya.
All'unità viene dato un nuovo, crudele incarico: atterrare nel mezzo delle linee nemiche solo per creare un diversivo.
Intanto a Britannia, Shin, dopo aver costretto il suo benefattore al suicidio tramite il potere del Geass, si auto-proclama comandante dell'ordine dei Cavalieri di Michael.
Nel mezzo di un tragico campo di battaglia, Shin e Akito si trovano finalmente faccia a faccia, e mostrano entrambi il loro terribile potere!
Dati Tecnici:
• Episodio 2: Il Wyvern lacerato
• Formato video: 16:9
• Formato audio: Italiano, Giapponese Dolby Digital 5.1
• Sottotitoli: Italiano (Dialoghi+Cartelli)
• Durata: 60 minuti
Report
Show/hide text
Screenshots
Show/hide text
Download
Warning! You are not allowed to view this text.
Per supportare il mio lavoro abbonati o rinnova il premium con i miei referral
Referral Easybytez
Referral Katfile
Referral Rapidgator
Referral Nitroflare
ATTENZIONE!!!
Stai per prelevare
Code Geass - Akito The Exiled 02 - Il Wyvern Lacerato (2013).mkv DVDRip AC3 ITA JAP Sub ITA

Materiale solo a scopo dimostrativo e per testare la sua funzionalita' quindi una volta prelevato dovete cancellare i file entro 24 ore dal vostro PC
Nessuno dei files indicati su questo sito è ospitato o trasmesso da questo server.
I links sono forniti dagli utenti del sito, liberodownload.com non può essere ritenuto in alcun modo responsabile per qualsiasi pubblicazione o altra azione commessa dagli utenti.
Se è stato di vostro gradimento supportate il lavoro comprando l'originale.
ATTENZIONE!!!
Attualmente non vi è nessun commento, per
Code Geass - Akito The Exiled 02 - Il Wyvern Lacerato (2013).mkv DVDRip AC3 ITA JAP Sub ITA
vuoi essere il primo a fare il commento!
Per Favore registrati oppure fai il Login