Generator Gawl (1998) 3xDVD9 ITA JAP Sub ITA
0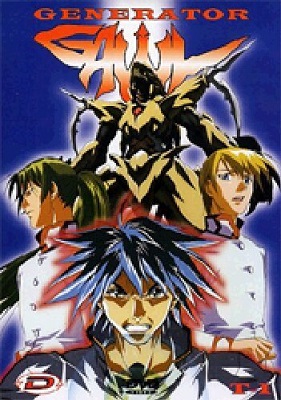 Generator Gawl è una serie televisiva anime di dodici episodi, prodotta dalla Tatsunoko e trasmessa da TV Tokyo fra il 6 ottobre 1998 ed il 22 dicembre 1998. L'anime è stato adattato in lingua italiana dalla Dynit che l'ha pubblicata in tre DVD.
Trama
La storia è ambientata nel 2007, anno in cui il professor Takuma Nekasa scoprì un codice genetico in grado di schiudere il potenziale, rimasto segreto per millenni, degli esseri umani e contemporaneamente esporre l'intera razza umana di fronte alla sua più grande minaccia. Come risultato, Gawl, Koji e Ryo, tre giovani ricercatori provenienti dal futuro, hanno viaggiato indietro nel tempo per sventare l'errore di Nekasa. L'intenzione dei tre è di arrivare un anno prima della catastrofe, tuttavia per alcuni errori di calcolo i tre si ritrovano appena tre mesi prima l'evento disastroso. Nel loro tentativo di salvare il mondo, i tre si dovranno scontrare con la misteriosa e perfida Ryuko Saito, una scienziata che vorrebbe che il futuro vada esattamente come previsto. Saito è aiutata dai Generators, assassini ultraterreni che si fingono esseri umani. Mentre Ryo e Koji tentano di portare a termine la propria missione, Gawl sarà costretto a diventare egli stesso un Generator, per poter combattere Saito con le sue stesse armi.
Titolo originale Generator Gawl
Genere Azione Commedia Fantascienza
Regia Seiji Mizushima
Sceneggiatura Akihiko Inari
Char. design Akira Oguro
Mecha design Kenji Teraoka
Musiche Norimasa Yamanaka
Studio Tatsunoko
Rete TV Tokyo
1ª TV 6 ottobre - 22 dicembre 1998
Episodi 12 (completa)
Aspect ratio 4:3
Durata ep. 30 min
Editore it. Dynit
Screenshots
Show/hide text
DownloadEasybytez - Nitroflare
Warning! You are not allowed to view this text.
Katfile - Rapidgator
https://www.keeplinks.org/p71/5d52d64105b76
Cover
Warning! You are not allowed to view this text.
Per supportare il mio lavoro abbonati o rinnova il premium con i miei referral
Referral Easybytez
Referral Katfile
Referral Rapidgator
Referral Nitroflare
ATTENZIONE!!!
Stai per prelevare
Generator Gawl (1998) 3xDVD9 ITA JAP Sub ITA

Materiale solo a scopo dimostrativo e per testare la sua funzionalita' quindi una volta prelevato dovete cancellare i file entro 24 ore dal vostro PC
Nessuno dei files indicati su questo sito è ospitato o trasmesso da questo server.
I links sono forniti dagli utenti del sito, liberodownload.com non può essere ritenuto in alcun modo responsabile per qualsiasi pubblicazione o altra azione commessa dagli utenti.
Se è stato di vostro gradimento supportate il lavoro comprando l'originale.
ATTENZIONE!!!
Attualmente non vi è nessun commento, per
Generator Gawl (1998) 3xDVD9 ITA JAP Sub ITA
vuoi essere il primo a fare il commento!
Per Favore registrati oppure fai il Login