Code Geass - Akito The Exiled 01 - Il Wyvern Si è Posato (2012) DVD9 ITA JAP Sub ITA
0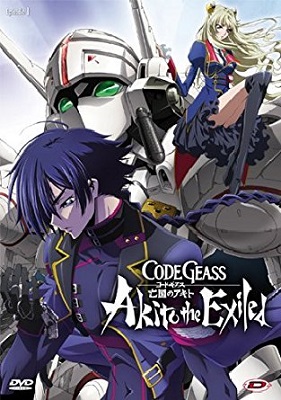 L'universo di Code Geass è ancora dominato dall'ingiustizia e dalla discriminazione razziale.Ecco perché servono nuovi eroi!Trama
La storia degli si svolge nell'anno 2017 a.t.b., a cavallo fra la prima e la seconda serie, quando il Giappone comincia ad accusare colpi dopo la sparizione e la presunta morte di Zero, alter ego di Lelouch a capo dei Cavalieri Neri. La trama prende piede nella superpotenza Euro Universe, la quale, soverchiata dall'aggressiva campagna militare del Sacro Impero di Britannia, spera di cambiare le sorti della guerra formando una speciale divisione conosciuta come wZERO, nella quale milita un promettente pilota di Knightmare Frame, Akito Hyuga. Altro personaggio rilevante sarà Leila Malkal, ex aristocratica britanna votatasi alla causa dell'E.U., la quale capeggia il gruppo di ribelli Wyvern, composto da giovani giapponesi. I Wyvern si lanciano incautamente sul campo di battaglia, dove le possibilità di sopravvivenza sono incredibilmente scarse. Loro combattono per la propria libertà e per una "casa" in cui tornare.
Dati Tecnici
• Formato video: 16:9
• Formato audio: Italiano, Giapponese Dolby Digital 5.1
• Sottotitoli: Italiano (Dialoghi+Cartelli)
• Durata: 60 minuti
Screenshots
Show/hide text
Download
Warning! You are not allowed to view this text.
Per supportare il mio lavoro abbonati o rinnova il premium con i miei referral
Referral Easybytez
Referral Katfile
Referral Rapidgator
Referral Nitroflare
ATTENZIONE!!!
Stai per prelevare
Code Geass - Akito The Exiled 01 - Il Wyvern Si è Posato (2012) DVD9 ITA JAP Sub ITA

Materiale solo a scopo dimostrativo e per testare la sua funzionalita' quindi una volta prelevato dovete cancellare i file entro 24 ore dal vostro PC
Nessuno dei files indicati su questo sito è ospitato o trasmesso da questo server.
I links sono forniti dagli utenti del sito, liberodownload.com non può essere ritenuto in alcun modo responsabile per qualsiasi pubblicazione o altra azione commessa dagli utenti.
Se è stato di vostro gradimento supportate il lavoro comprando l'originale.
ATTENZIONE!!!
Attualmente non vi è nessun commento, per
Code Geass - Akito The Exiled 01 - Il Wyvern Si è Posato (2012) DVD9 ITA JAP Sub ITA
vuoi essere il primo a fare il commento!
Per Favore registrati oppure fai il Login